IPA's Right-Fit Evidence Unit services are heavily tailored to our partner's needs. For an implementing organization, a partnership with the Right-Fit Evidence Unit often starts either with the facilitated creation of a Monitoring, Evaluation, and Learning (MEL) plan or the diagnostic of existing MEL practices and the provision of recommendations to improve it. This initial engagement usually leads to ongoing technical support based on the partner's needs concerning the implementation of a right-fit MEL system.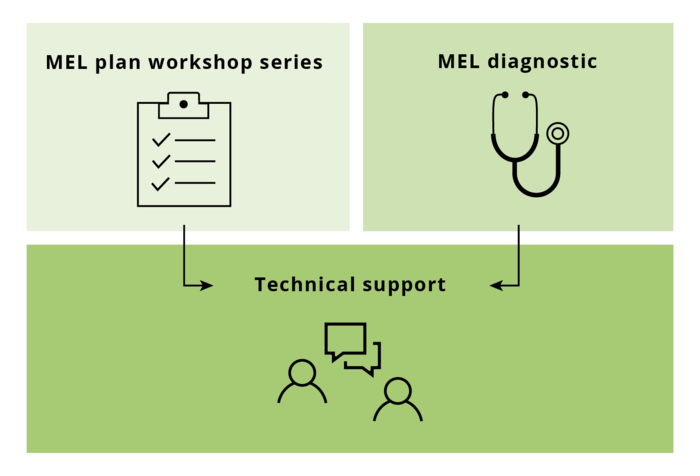 Our engagements with funders usually follow the same structure, with particular care towards creating a MEL system that aligns the implementers' MEL plans and the funder's learning and reporting requirements. Aligning the incentives in this way is incredibly powerful in creating an environment that is conducive to learning. Often, when engaging with funders at the portfolio level, our services also include facilitating communities of practice for various implementers to share best practices and lessons learned.
A case from the portfolio: working with a large foundation and their grantees
The RFE unit has been working with one of the largest private foundations in the world to help them refine their measurement and learning approach, as they rolled out their strategy for the next decade. RFE travelled to multiple African countries to meet with grantees and understand the usefulness of the current reporting guidelines. In parallel, we worked with the Foundation to redesign their country and portfolio MEL systems, such that they provided learning opportunities to the grantees, allowed the foundation to perform cross-portfolio comparisons and share learnings, and remained useful for accountability purposes.
The sections below provide more detail on our three flagship advisory engagement categories: MEL plan workshop series, MEL diagnostic, and ongoing technical support.
Monitoring, Evaluation, and Learning (MEL) Plan Workshop Series
The MEL Workshop Series is designed for projects in the early stages of defining their MEL approach or interested in revamping it altogether. Through four sessions, usually spread over two weeks and involving various internal stakeholders, we help the organization design a tailored and robust MEL plan.
The process usually starts with the design of a strong theory of change, allowing organizations to identify testable hypotheses that turn into learning questions. We then use the CART principles to prioritize the questions that should be tackled first. Finally, we help build evidence use plans that integrate with existing routines, ensuring data use.
Apart from guiding organizations towards a robust MEL plan, our workshop series facilitates organization-wide buy-in of the theory of change and MEL plan. This can help break the silos that often exist between M&E and program teams, ensuring that evidence is looked at with genuine interest and leads to ongoing program improvements.
Funders with clear programming priorities but without defined MEL systems may also benefit from tailored versions of this MEL plan workshop series. Structuring and prioritizing the MEL approach is equally important at the funder's level as it is at the implementer's level.
A case from the portfolio: Plant with Purpose
Plant with Purpose is a U.S.-based NGO operating in 7 countries worldwide aiming to transform communities through agricultural, environmental, and spiritual renewal activities. As part of their global directors gathering, IPA facilitated an intense two-day MEL workshop including short presentations, structured exercises, and plenary discussions. Participants surfaced critical assumptions embedded in their theory of change, prioritized resulting M&E questions, and identified ways to leverage their M&E resources to answer them rigorously and increase accountability.
"Thanks to IPA's help, we not only aspire to higher standards, but also have a clearer idea of where to invest limited additional M&E resources." — J. Mitchell, Director of International Programs
Monitoring, Evaluation, and Learning (MEL) Diagnostic
For organizations not starting from scratch in their MEL systems, we offer to be a critical friend who helps them assess what to improve. Through an MEL diagnostic, we review the systems in place in light of the CART principles and provide recommendations to strengthen it.
Typically, we start by conducting a participatory assessment of the program's MEL system using three data sources: a survey of all staff involved in the production and use of data, key informant interviews, and document reviews. We then hold a workshop with the client to present opportunities for improvement and agree on priorities. The diagnostic can be performed at the project, portfolio, or organizational level. We tailor the breadth and depth of the participatory assessments and recommendations to our partners' needs.
Ongoing Technical Support
After engaging with our MEL plan workshop series or MEL diagnostic, IPA offers to help partners with various aspects related to implementation. This may include identifying the right data to answer key M&E questions, selecting the appropriate tools to do so, training staff on best data collection practices, facilitating useful reflections around gathered evidence, or facilitating the cultural shift towards becoming a learning organization.
The intensity and frequency of our support will depend on the partner's needs and resources. It can range anywhere from monthly check-in calls, to a few weeks of more intense technical support, to a staff member embedded in the organization to provide hands-on support for multiple months or years.
Other Types of Engagements
There are as many types of engagements as types of organizations. Although the services described above represent the most frequent approaches at the Right-Fit Evidence Unit, we have supported organizations in many other ways, including: facilitation of needs assessment design, methodological support on estimating impact at the portfolio level, and coordination of learning among communities of practice. If you believe your organization's needs are not well addressed by any of our main products, we are more than happy to brainstorm other ways in which we could be of help.