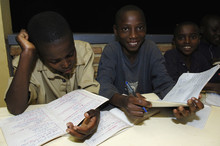 The ability to recruit, elicit effort from, and retain civil servants is a central issue for any government. Can pay-for-performance contracts successfully maintain a skilled and motivated workforce? In Rwanda, researchers partnered with the Rwanda Education Board to design a pay-for-performance contract for teachers and measure its impact on both the composition of recruited teachers and their performance.
The transition from school to the labor market is a crucial step in the life of young people. Yet youth unemployment is much higher than that of adults in many countries around the world, including Rwanda. Challenges include a mismatch in skills paired with difficulties for young job seekers to signal their motivation and productivity to potential employers.
Secondary school enrollment in Africa is expected to double by 2030, yet high youth unemployment rates suggest that the existing formal education system is not preparing students to improve their livelihoods through work.