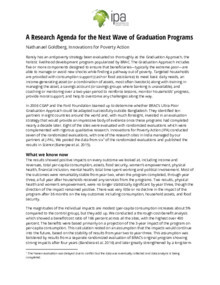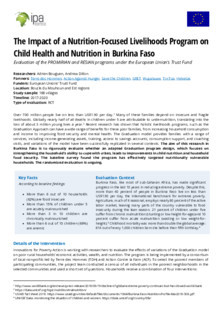 Over 700 million people live on less than US$1.90 per day.1 Many of these families depend on insecure and fragile livelihoods. Globally nearly half of all deaths in children under 5 are attributable to undernutrition, translating into the loss of about 3 million young lives a year.2 Recent research has shown that holistic livelihoods programs, such as the Graduation Approach can have a wide range of benefits for these poor families, from increasing household consumption and income to improving food security and mental health. The Graduation model provides families with a range of services, including income-generating assets, training, access to savings accounts, consumption support, and coaching visits, and variations of the model have been successfully replicated in several contexts. The aim of this research in Burkina Faso is to rigorously evaluate whether an adapted Graduation program design, which focuses on strengthening the household's ability to cope with crises, leads to improvements in child nutrition and household food security. The baseline survey found the program has effectively targeted nutritionally vulnerable households. The randomized evaluation is ongoing. 
---
[1] http://www.worldbank.org/en/news/press-release/2018/09/19/decline-of-global-extreme-poverty-continues-but-has-slowed-world-bank
[2] https://data.unicef.org/topic/nutrition/malnutrition/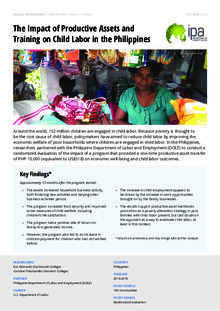 Around the world, 152 million children are engaged in child labor. Because poverty is thought to be the root cause of child labor, policymakers have aimed to reduce child labor by improving the economic welfare of poor households where children are engaged in child labor. In the Philippines, researchers partnered with the Philippine Department of Labor and Employment (DOLE) to conduct a randomized evaluation of the impact of a program that provided a one-time productive asset transfer of PHP 10,000 (equivalent to US$518) on economic well-being and child labor outcomes.
Key Findings 
Approximately 15 months after the program started:
The assets increased household business activity, both fostering new activities and helping older business activities persist.
The program increased food security and improved some measures of child welfare, including children's life satisfaction.
The program had a positive rate of return on family-firm generated income.
However, the program also led to an increase in child employment for children who had not worked before.
The increase in child employment appears to be driven by the increase in work opportunities brought on by the family businesses.
The results support productive asset livelihoods promotion as a poverty alleviation strategy in poor families with child labor present, but cast doubt on the approach as a way to eradicate child labor, at least in this context.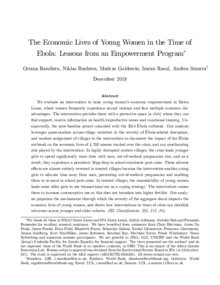 We evaluate an intervention to raise young women's economic empowerment in Sierra Leone, where women frequently experience sexual violence and face multiple economic disadvantages. The intervention provides them with a protective space (a club) where they can …nd support, receive information on health/reproductive issues and vocational training. Unexpectedly, the post-baseline period coincided with the 2014 Ebola outbreak. Our analysis leverages quasi-random across-village variation in the severity of Ebola-related disruption, and random assignment of villages to the intervention to document the impact of the Ebola outbreak on the economic lives of 4 700 women tracked over the crisis, and any ameliorating role played by the intervention. In highly disrupted control villages, the crisis leads younger girls to spend signi…cantly more time with men, out-of-wedlock pregnancies rise, and as a result, they experience a persistent 16pp drop in school enrolment post-crisis. These adverse e¤ects are almost entirely reversed in treated villages because the intervention enables young girls to allocate time away from men, preventing out-of-wedlock pregnancies and enabling them to re-enrol in school post-crisis. In treated villages, the unavailability of young women leads some older girls to use transactional sex as a coping strategy. The intervention causes them to increase contraceptive use so this does not translate into higher fertility. Our analysis pinpoints the mechanisms through which the severity of the aggregate shock impacts the economic lives of young women, and shows how interventions in times of crisis can interlink outcomes across younger and older cohorts. J
How do standard development programs compare to just giving people cash? In Rwanda, researchers conducted a randomized evaluation to shed light on this question. Villages were randomly assigned to one of four groups: they received either a USAID-funded, integrated WASH and nutrition program (with savings and asset transfer components), unconditional cash grants of equal cost to the donor, a larger cash transfer, or no program at the time of study. The transfers were funded by USAID and Google.org.
The evaluation measured impacts on five main health and economic outcomes: household dietary diversity, maternal and child anemia, child growth (height-for-age, weight-for-age, and mid-upper arm circumference), household wealth, and household consumption, as well as other secondary outcomes, such as savings.
Key Findings:
After approximately one year:
»  The integrated nutrition and WASH program had a positive impact on savings, a secondary outcome, among the eligible population, but did not impact any primary outcomes (household dietary diversity, maternal or child anemia, child growth, household consumption, or wealth) within the period of the study.
»  An equivalent amount of cash (a cost to USAID of $142 per household) allowed households to pay down debt and boosted productive and consumption assets, but did not impact child health outcomes.
»  A much larger cash transfer—of more than $500 per household—had a wide range of benefits: it not only increased consumption, savings, assets, and house values,but improved household dietary diversity and height-for-age, and decreased child mortality.
»  The results suggest that, over the time period of the study, targeted programs focused on changing specific outcomes may be able to do so at lower cost than cash, but that large investments of cash can more rapidly affect some leading indicators of malnutrition.
»  The results also suggest that large cash transfers impact not only the economic measures of consumption and wealth, but also dietary diversity, height-for-age, and child mortality, while small transfers appear to have more limited benefits.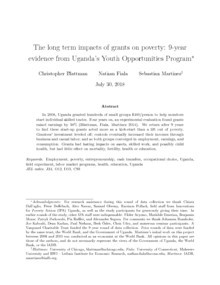 In 2008, Uganda granted hundreds of small groups $400/person to help members start individual skilled trades. Four years on, an experimental evaluation found grants raised earnings by 38% (Blattman, Fiala, Martinez 2014). We return after 9 years to find these start-up grants acted more as a kick-start than a lift out of poverty. Grantees' investment leveled off; controls eventually increased their incomes through business and casual labor; and so both groups converged in employment, earnings, and consumption. Grants had lasting impacts on assets, skilled work, and possibly child health, but had little effect on mortality, fertility, health or education.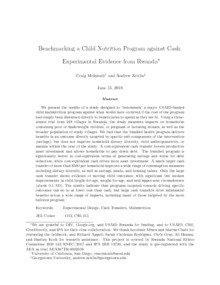 We present the results of a study designed to 'benchmark' a major USAID-funded child malnutrition program against what would have occurred if the cost of the program had simply been disbursed directly to beneficiaries to spend as they see fit. Using a three-armed trial from 248 villages in Rwanda, the study measures impacts on households containing poor or underweight children, or pregnant or lactating women, as well as the broader population of study villages. We find that the bundled health program delivers benefits in an outcome directly targeted by specific sub-components of the intervention (savings), but does not improve household dietary diversity, child anthropometrics, or anemia within the year of the study. A cost-equivalent cash transfer boosts productive asset investment and allows households to pay down debt. The bundled program is significantly better in cost-equivalent terms at generating savings and worse for debt reduction, while cost-equivalent cash drives more asset investment. A much larger cash transfer of more than $500 per household improves a wide range of consumption measures including dietary diversity, as well as savings, assets, and housing values. Only the large cash transfer shows evidence of moving child outcomes, with significant but modest improvements in child height-for-age, weight-for-age, and mid upper-arm circumference (about 0.1 SD). The results indicate that programs targeted towards driving specific outcomes can do so at lower cost than cash, but large cash transfers drive substantial benefits across a wide range of impacts, including many of those targeted by the more tailored program.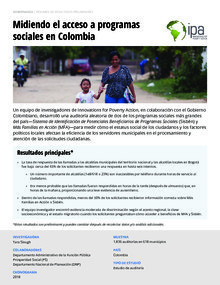 Un equipo de investigadores de Innovations for Poverty Action, en colaboración con el Gobierno Colombiano, desarrolló una auditoría aleatoria de dos de los programas sociales más grandes del país—Sistema de Identificación de Potenciales Beneficiarios de Programas Sociales (Sisbén) y Más Familias en Acción (MFA)—para medir cómo el estatus social de los ciudadanos y los factores políticos locales afectan la eficiencia de los servidores municipales en el procesamiento y atención de las solicitudes ciudadanas.
Resultados principales*
La tasa de respuesta de las llamadas a las alcaldías municipales del territorio nacional y las alcaldías locales en Bogotá fue baja: cerca del 65% de los solicitantes recibieron una respuesta en hasta seis intentos.
Un número importante de alcaldías (148/618 o 23%) son inaccesibles por teléfono durante horas de servicio al ciudadano.
Era menos probable que las llamadas fueran respondidas en horas de la tarde (después de almuerzo) que, en horas de la mañana, proporcionando una leve evidencia de ausentismo. » Dentro de las llamadas respondidas, menos del 50% de los solicitantes recibieron información correcta sobre Más Familias en Acción o Sisbén.
El equipo investigador encontró evidencia moderada de discriminación según el acento regional, la clase socioeconómica y el estado migratorio cuando los solicitantes preguntaban cómo acceder a beneficios de MFA y Sisbén.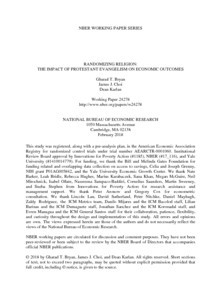 To test the causal impact of religiosity, we conducted a randomized evaluation of an evangelical Protestant Christian values and theology education program that consisted of 15 weekly half-hour sessions. We analyze outcomes for 6,276 ultra-poor Filipino households six months after the program ended. We find significant increases in religiosity and income, no significant changes in total labor supply, assets, consumption, food security, or life satisfaction, and a significant decrease in perceived relative economic status. Exploratory analysis suggests the program may have improved hygienic practices and increased household discord, and that the income treatment effect may operate through increasing grit.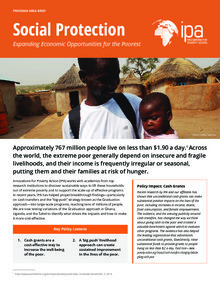 Approximately 767 million people live on less than $1.90 a day.1 Across the world, the extreme poor generally depend on insecure and fragile livelihoods, and their income is frequently irregular or seasonal, putting them and their families at risk of hunger. Innovations for Poverty Action (IPA) works with academics from top research institutions to discover sustainable ways to lift these households out of extreme poverty and to support the scale-up of effective programs. In recent years, IPA has helped propel breakthrough findings—particularly on cash transfers and the "big-push" strategy known as the Graduation approach—into large-scale programs, reaching tens of millions of people. We are now testing variations of the Graduation approach in Ghana, Uganda, and the Sahel to identify what drives the impacts and how to make it more cost-effective.
1 http://www.worldbank.org/en/topic/poverty/overview. Accessed November 7, 2016.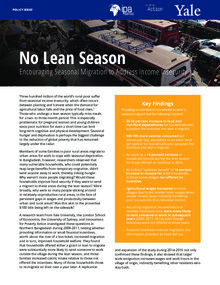 Three hundred million of the world's rural poor suffer from seasonal income insecurity, which often occurs between planting and harvest when the demand for agricultural labor falls and the price of food rises. Those who undergo a lean season typically miss meals for a two- to three-month period. This is especially problematic for pregnant women and young children since poor nutrition for even a short time can limit long-term cognitive and physical development. Seasonal hunger and deprivation is perhaps the biggest challenge to the reduction of global poverty that has remained largely under the radar.
Members of some families in poor rural areas migrate to urban areas for work to cope with seasonal deprivation. In Bangladesh, however, researchers observed that many vulnerable households, who could potentially reap large benefits from temporary migration, didn't send anyone away to work, thereby risking hunger. Why weren't more people migrating? Would these households improve food security if they were to send a migrant to these areas during the lean season? More broadly, why were so many people sticking around in relatively unproductive rural areas, in the face of persistent gaps in wages and productivity between urban and rural areas? Was this akin to the proverbial $100 bills being left on the sidewalk?
A research team from Yale University, the London School of Economics, the University of Sydney, and Innovations for Poverty Action investigated these questions in Northern Bangladesh during 2008-2011, testing whether providing information or small financial incentives, worth about the cost of a bus ticket, increased migration and in turn, improved household welfare. They found that households offered either a grant or loan to migrate were substantially more likely to send someone to work outside the village during the lean season, and those families increased caloric intake relative to those not offered the incentives. Many of those households chose to re-migrate on their own a year later. A replication and expansion of the study during 2014-2016 not only confirmed these findings, it also showed that larger scale emigration increases wages and work hours in the village of origin, indirectly benefiting other residents who stay back.
Read about Evidence Action's scale-up of the program here.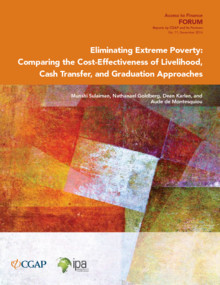 Targeted interventions that sustainably improve the lives of the poor will be a critical component in eliminating extreme poverty by 2030. The poorest households tend to be physically and socially isolated and face disadvantages across multiple dimensions, which makes moving out of extreme poverty challenging and costly. This paper compares the cost-effectiveness of three strands of anti-poverty social protection interventions by reviewing 30 livelihood development programs, 11 lump-sum unconditional cash transfers, and seven graduation programs. All the selected graduation initiatives focused on the extreme poor, while the livelihood development and cash transfer programs targeted a broader set of beneficiaries. Impacts on annual household consumption (or on income when consumption data were not available) per dollar spent were used to benchmark cost-effectiveness across programs. Among all 48 programs reviewed, lump-sum cash transfers were found to have the highest benefit-cost ratio, though there are very few lump-sum cash transfer programs that serve the extreme poor or measure long-term impacts. Livelihood programs that targeted the extreme poor had much lower benefit-cost ratios. Graduation programs are more cost-effective than the livelihood programs that targeted the extreme poor and measured long-term impacts (i.e., at least one year after end of interventions). More evidence is needed, especially on long-term impacts of lump-sum cash transfers to the extreme poor, to make better comparisons among the three types of programs for sustainable reduction of extreme poverty.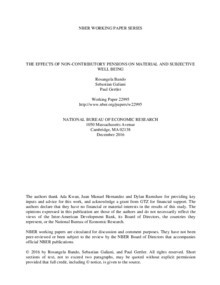 Public expenditures on non-contributory pensions are equivalent to at least 1 percent of GDP in several countries in Latin America and is expected to increase. We explore the effect of non- contributory pensions on the well-being of the beneficiary population by studying the Pension 65 program in Peru, which uses a poverty eligibility threshold. We find that the program reduced the average score of beneficiaries on the Geriatric Depression Scale by nine percent and reduced the proportion of older adults doing paid work by four percentage points. Moreover, households with a beneficiary increased their level of consumption by 40 percent. All these effects are consistent with the findings of Galiani, Gertler and Bando (2016) in their study on a non-contributory pension scheme in Mexico. Thus, we conclude that the effects of non-contributory pensions on well-being in rural Mexico can be largely generalized to Peru.
This paper provides empirical evidence regarding the causal effects that upgrading slum dwellings has on the living conditions of the extremely poor. In particular, we study the impact of providing better houses in situ to slum dwellers in El Salvador, Mexico and Uruguay. We experimentally evaluate the impact of a housing project run by the NGO TECHO ("roof"), which provides basic pre-fabricated houses to members of extremely poor population groups in Latin America. The main objective of the program is to improve household well-being. Our findings show that better houses have a positive effect on overall housing conditions and general well-being: the members of treated households are happier with their quality of life. In two countries, we also document improvements in children's health; in El Salvador, slum dwellers who have received the TECHO houses also feel that they are safer. We do not find this result, however, in the other two experimental samples. There are no other noticeable robust effects in relation to the possession of durable goods or labor outcomes. Our results are robust in terms of both their internal and external validity because they are derived from similar experiments in three different Latin American countries.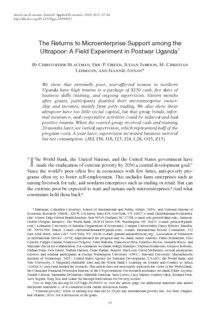 We show that extremely poor, war-affected women in northern Uganda have high returns to a package of $150 cash, five days of business skills training, and ongoing supervision. Sixteen months after grants, participants doubled their microenterprise ownership and incomes, mainly from petty trading. We also show these ultrapoor have too little social capital, but that group bonds, informal insurance, and cooperative activities could be induced and had positive returns. When the control group received cash and training 20 months later, we varied supervision, which represented half of the program costs. A year later, supervision increased business survival but not consumption.
Pages