Template F Content Blocks
Body Copy
A key component of researchers' response to COVID-19 is conducting safe and fast data collection. In March 2020, IPA along with many other research organizations shifted nearly all of its field data collection to remote methods, primarily Computer Assisted Telephone Interviews (CATI). This required adapting our methods for training and quality monitoring to virtual phone banking, with interviewers working from home, sometimes with limited connectivity. It also required re-tooling the way we design and implement questionnaires.
With generous support from Northwestern University's Global Poverty Research Lab, IPA has gathered evidence and best practices and developed extensive tools and resources to support effective collection of high-quality data. This page is to share what we have developed, learned, and are currently learning as we continuously monitor quality and run experiments to improve methods for IPA's network of investigators and for the rest of the research community.

How-To
As soon as COVID-19 halted field data collection, we started supporting the transition to remote surveying using mobile phones. Based on this experience, as well as the generous contributions from many partners, we produced materials to support research staff as they implement phone surveys. These best practices are compiled into a comprehensive guide below. We also developed a variety of technical tools for implementing phone survey data collection in SurveyCTO. These are featured in the guide, but some summary documents are also featured below.
 
CB13 Block
COMPREHENSIVE GUIDE
CB13 Featured Image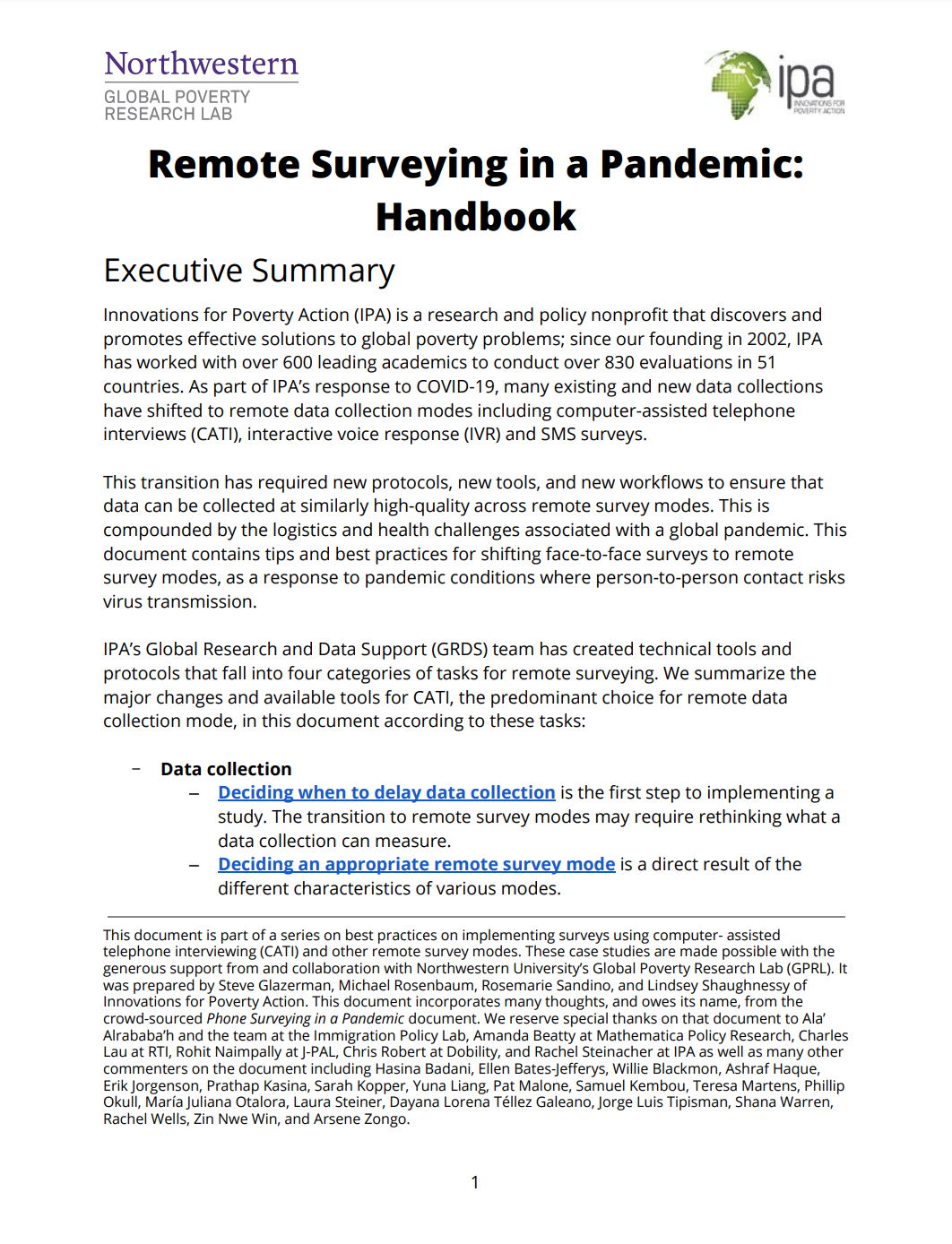 Sub Intro
What the Research Says
To ensure that IPA's transition to remote survey modes incorporated best practice, we reviewed existing literature on phone surveys. These reviews are compiled into summaries of what research says about various aspects of remote surveying including response rates, methods to increase response rates and how representative phone surveys can be. Links are provided to source studies, so visitors to this site can do their own research. Suggestions for other research to add are welcome; you can contact us here.
COMPREHENSIVE GUIDE
CB13 Featured Image