Philippines Socioeconomic Panel Survey (PSPS) Launching
Template G Content Blocks
Sub Editor
Thursday, May 18, 2023, | UPSE Diliman Campus Auditorium | 2:30 PM - 6:00 PM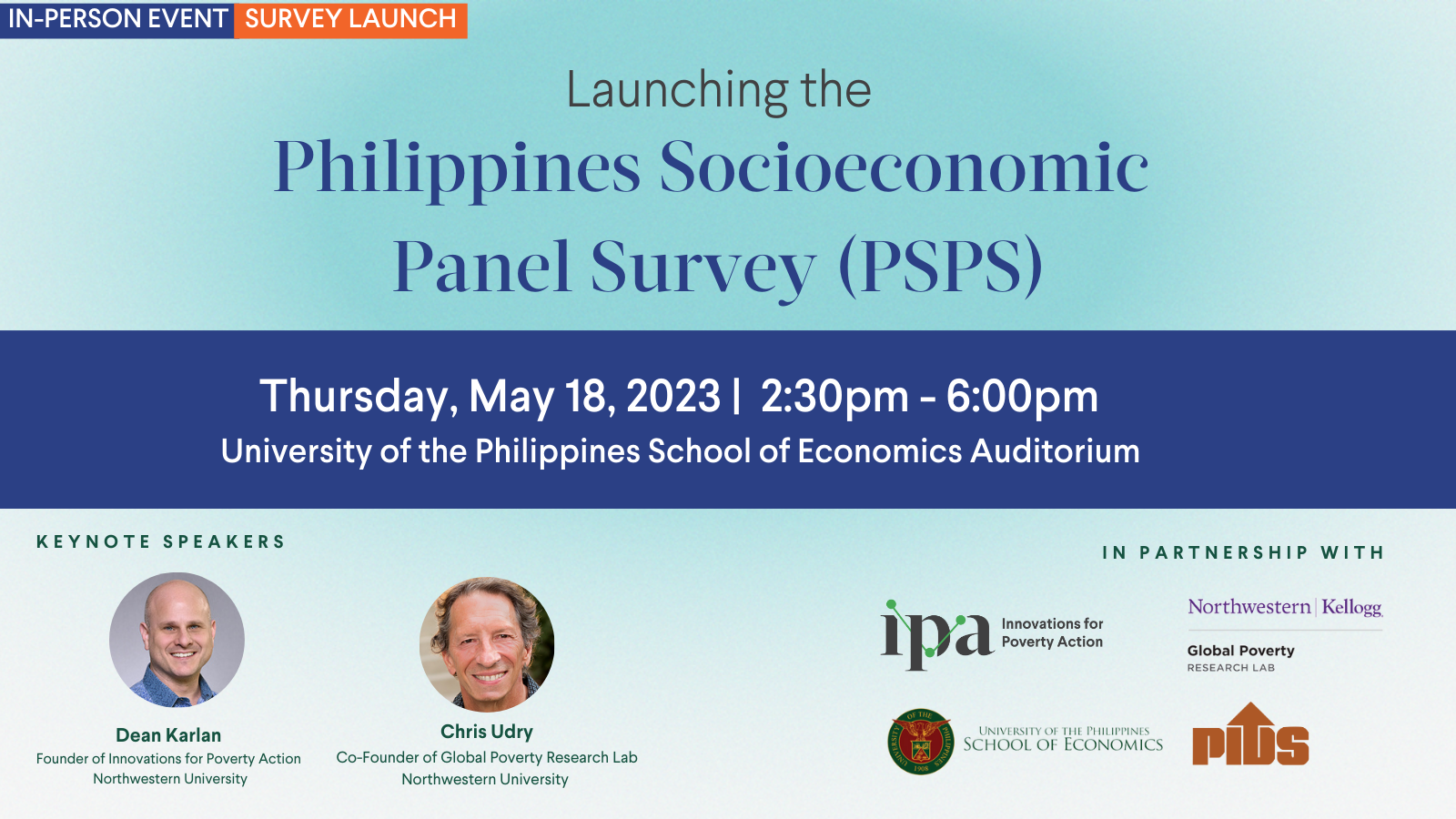 Innovations for Poverty Action (IPA) and the University of the Philippines School of Economics (UPSE) are delighted to invite you to the launch event of the Philippines Socioeconomic Panel Survey on the 18th of May 2023. The event will bring together national policymakers, local NGOs, international funders and the private sector to speak about leveraging panel data for evidence-based programming.
 
The Philippines Socioeconomic Panel Survey (PSPS)
This year, IPA and the Global Poverty Research Lab (GPRL) at Northwestern University, are launching the Philippines Socioeconomic Panel Survey (PSPS) in partnership with the Philippine Institute for Development Studies and the UPSE The PSPS is a 20-year panel survey that will shed light on the long-run processes of socioeconomic development by providing publicly available data for government actors and the Philippine public.
 
Beyond the Snapshot
Join us in welcoming Dean Karlan and Chris Udry, lead academic researchers for the PSPS, to share insights on their motivation behind starting this twenty-year evidence-generation initiative and how it could be used for the wider public. Engage with actors through a high-level forum of central and local government, the private sector, and NGOs to explore the use of long-run data and rigorous impact evaluation in their respective fields.
 
Schedule
Time
Item
Speaker
14:30
Arrival and registration
 
15:00
Opening Remarks
Dr. Joy Abrenica, Dean, UP School of Economics
15:05
Introducing IPA Philippines
Aftab Opel, Country Director, IPA Philippines
15:15
The Philippines Socioeconomic Panel Survey
Dean Karlan, Founder of IPA, Professor of Economics and Finance at Northwestern University
15:30
What can we Evaluate?
Christopher Udry, Co-Founder of GPRL, Professor of Economics at Northwestern University
15:45
Coffee Break
 
16:00
A Message from East Africa: The Kenya Life Panel Survey

Michael Kremer, Professor of Economics and Public Policy, University of Chicago

Eric Ochieng, Research Manager at IPA Kenya

16:10
Beyond the Snapshot: Leveraging Panel Data

Moderator: Dr. Karl Jandoc, Associate Professor, UP School of Economics

Panelists from national government, local government, NGOs, and the private sector

16:45
General Q&A
 
17:00
Closing Remarks
Dr. Aniceto Orbeta, President, PIDS
17:05
Reception