IPA Côte d'Ivoire Hosts Training for Ministries Amidst Talks of New Mandate to Evaluate Public Policies
Template G Content Blocks
Sub Editor
Pour la version française, voici.
---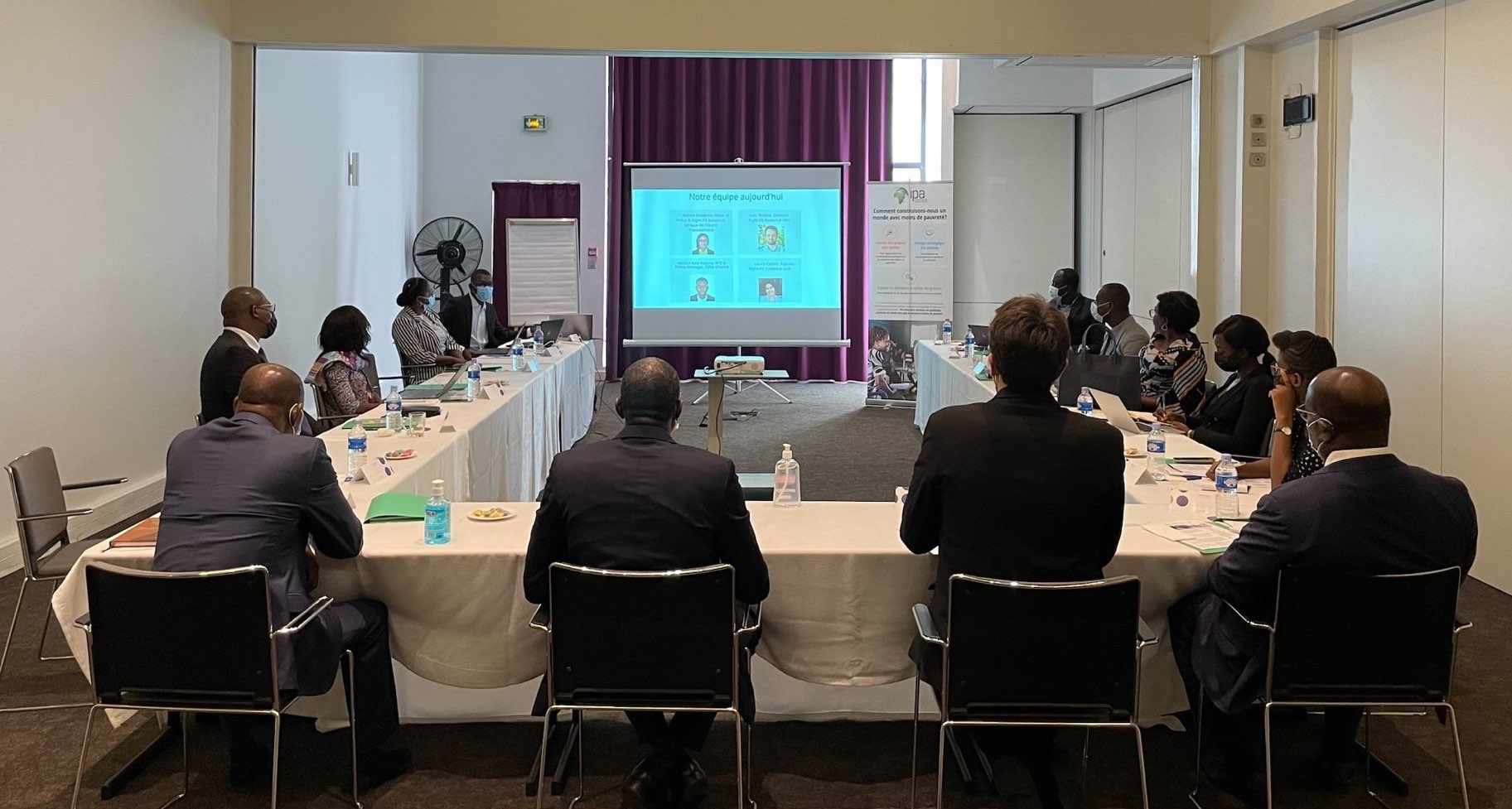 In the spirit of the Government of Côte d'Ivoire's initiative to ensure higher levels of evaluation of public policies, IPA Francophone West Africa held a training session from April 4-8 for the Ivorian Ministry of Plan to foster an understanding of strong data systems and impact evaluation methodologies. 20 government entities hand-selected members of their technical team to join the week-long training. The IPA team shared key frameworks around monitoring, impact evaluations, and learnings with chief government officials and partners. The training spanned over four days for technical and strategy members of the ministry, including those in charge of planning, monitoring, and evaluation.
Throughout the training, participants were asked to follow along through a series of group activities developing a case study based on a real government program. Each group had a facilitator that guided the development of a "Theory of Change" for the program, highlighting the main assumptions and creating learning questions, learning approaches, and indicators that were then prioritized and included in a data use plan. This allowed the participants to immediately apply the concepts being taught in the workshop, increasing the applicability of the learnings and insights  in their respective ministries. The training concluded with a summary session targeted at high-level officials, aiming to emphasize the importance of evaluation and learning as key tools to increase the impact of government programs. Through the comparison of two case studies, our team explained why quick measurement and fast learning can avoid the misuse of resources in the long term, even if it seems to increase costs in the short term.
IPA is already partnering with numerous ministries (namely the Ministry of Education and the Ministry of Employment) to continue the crucial work of generating reliable and actionable data and evidence to inform and guide programs and policies. This collaboration will continue and intensify in the coming years.
---
Formation en évaluation organisée par IPA Côte d'Ivoire à l'intention des ministères dans le cadre des discussions sur une nouvelle loi rendant obligatoire l'évaluation des politiques publiques dans le pays
 

Dans le cadre de l'initiative du gouvernement de la Côte d'Ivoire visant à assurer des niveaux plus élevés d'évaluation des politiques publiques, le bureau d'IPA pour l'Afrique de l'Ouest francophone s'est associé au ministère ivoirien du Plan pour renforcer la compréhension des systèmes de données solides, et des méthodologies d'évaluation d'impact. Vingt entités gouvernementales ont sélectionné des membres de leur équipe technique pour participer à une formation d'une semaine. L'équipe d'IPA a pu partager les principaux cadres de travail relatifs au suivi, aux évaluations d'impact et à l'apprentissage avec les principaux responsables gouvernementaux et les partenaires. La formation à l'intention des membres techniques et des membres chargés des stratégies du ministère, y compris ceux chargés de la planification, du suivi et de l'évaluation, a duré quatre jours. Tout au long de la formation, les participant.e.s ont assisté à une série d'activités de groupe en vue de développer une étude de cas basée sur un programme gouvernemental réel. Chaque groupe avait un facilitateur qui a animé les échanges en vue de l'élaboration d'une Théorie du changement pour le programme, mettant en exergue les principales hypothèses et créant des questions et des approches d'apprentissage ainsi que des indicateurs qui ont ensuite été classés par ordre de priorité et intégrés dans un plan d'utilisation des données. Ces sessions ont permis aux participant.e.s de mettre immédiatement en application les concepts enseignés pendant l'atelier, augmentant ainsi l'applicabilité des enseignements tirés et des idées dans leurs ministères respectifs.
La formation s'est terminée par une session de synthèse destinée aux hauts fonctionnaires, avec pour objectif de souligner l'importance de l'évaluation et de l'apprentissage comme outils clés pour accroître l'impact des programmes gouvernementaux. En comparant deux études de cas, notre équipe a expliqué pourquoi une mesure et un apprentissage rapides peuvent éviter une mauvaise utilisation des ressources à long terme, même si cela semble augmenter les coûts à court terme. Les participantes se sont montré.e.s très engagé.e.s pendant la formation, en posant des questions et en menant des discussions sur l'applicabilité des concepts dans leurs activités quotidiennes. IPA travaille déjà en partenariat avec de nombreux ministères (notamment le ministère de l'Éducation et le ministère de l'Emploi) afin de poursuivre le travail crucial de production de données et de preuves fiables et exploitables pour informer et orienter les programmes et les politiques. Cette collaboration va continuer et s'intensifier dans les années à venir.