IPA and the UNDP Launch Data Management Program in Guinea Bissau
Template G Content Blocks
CB30 Flex Block
Sub Editor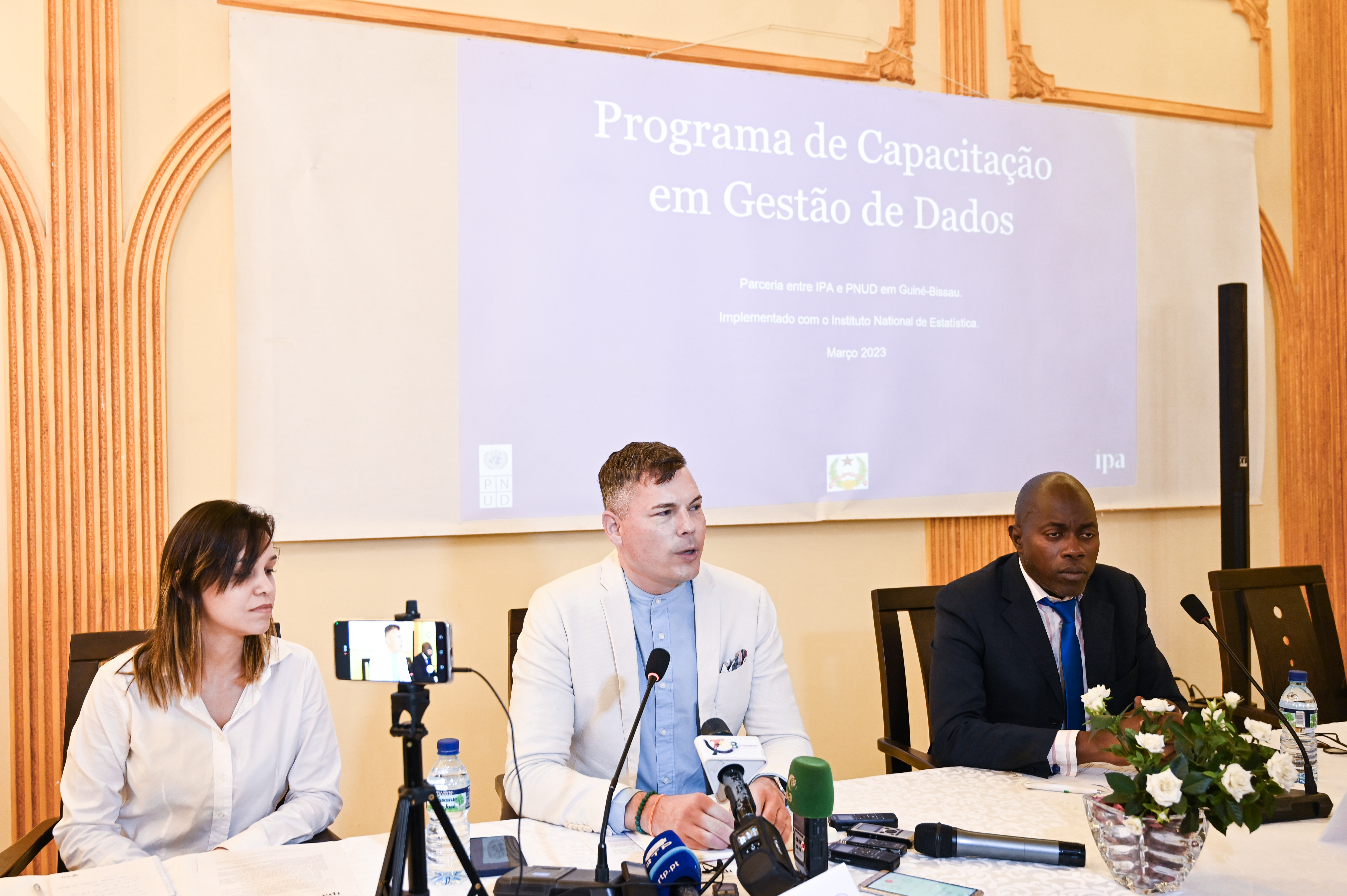 On March 1, IPA and the United Nations Development Program (UNDP) launched a Capacity Building Program in Data Management for the National Institute of Statistics (INE) of Guinea Bissau. This intensive training program is designed to equip INE professionals with the necessary skills and knowledge to effectively manage data processes and usage. Specifically, the training will help INE to structure the digitization of the Consumer Price Index data collection process, initially done on paper, via tablets.
Representatives of several ministries, the West African Central Bank, and local media attended the opening session. The General Director General (DG) of the INE thanked the ministries for facilitating INE's increased autonomy in data management practices, allowing INE to operate more efficiently in providing the necessary statistical data to the government, academia, and other organizations. The UNDP Resident Representative remarked on the importance of data management "for citizens and public policymakers so that they can make evidence-based decisions."
The event was recapped in Portuguese media outlets SAPO24 and Jornal Nô Pintcha.
***
Dans le cadre du partenariat entre Innovations for Poverty Action et le Programme des Nations Unies pour le Développement (PNUD), a eu lieu le 1er mars 2023 l'ouverture d'un Programme de renforcement des capacités en gestion des données au profit de l'Institut national des Statistiques de la Guinée Bissau (INE). Il s'agit d'un programme de formation intensive destiné à doter les professionnels de l'INE des compétences et des connaissances nécessaires pour gérer efficacement les processus et l'utilisation des données. De façon spécifique, la formation aidera le personnel de l'INE à structurer la numérisation du processus de collecte de l'Indice des Prix à la Consommation, initialement fait sur papier, via des tablettes. L'idée étant de passer du papier au numérique.
Les données probantes jouent un rôle essentiel dans la planification et la gestion de tous les secteurs de la société. Elles occupent une place de plus en plus importante dans la prise de décision si bien que le besoin de professionnels qualifiés pour gérer et analyser les données est devenu indispensable.
La session d'ouverture a aussi connu la présence de représentants d'autres ministères, BCEAO et les médias. Le Directeur Général (DG) de l'INE a remercié le gouvernement pour l'importante décision d'approuver la loi fondamentale du règlement intérieur du système statistique et le statut organique de l'INE qu'il dirige, lui conférant plus d'autonomie. Selon le Directeur Général, l'adoption de cette loi permettra à l'INE de fonctionner de manière plus efficace, en fournissant les données statistiques nécessaires au gouvernement, aux universitaires et à d'autres organisations.
Le Représentant Résident du PNUD en Guinée Bissau a estimé que la formation de IPA est très importante et intervient à point nommé, notamment après l'adoption récente du statut de l'INE. Selon lui, la formation confirme l'importance des statistiques nationales, non seulement pour interconnecter, produire et partager des données, mais aussi pour la génération de données probantes. "Ces preuves sont créées à l'intention des citoyens et des décideurs publics afin qu'ils puissent prendre des décisions basées sur des données probantes", a-t-il précisé.