Santa Cruz, Bolivia

On Wednesday October 14, the Abdul Latif Jameel Poverty Action Lab (J-PAL), Innovations for Poverty Action (IPA), and the Inter-American Bank of Development (IADB), the Institute for Advanced Development Studies (INESAD) and the Universidad Privada de Santa Cruz (UPSA) organized a introductory workshop on experimental impact evaluation and the seminar "Searching for Effective Solutions: Public Policy Informed by Evidence" in Santa Cruz, Bolivia.

In the morning took place a workshop coordinated by the J-PAL LAC and IPA team, in which participants worked on the theory and practice of introductory topics on experimental impact evaluations, such as evaluation methodologies, theory of change and randomization design. As part of the workshop, Francisco Gallego, J-PAL LAC Scientific Director, lead a session on the opportunities to implement randomized impact evaluations.

In the afternoon, the seminar gathered scholars, public servants, international organization and civil society representatives in order to debate on the role of rigorous evidence as an essential tool in decision-making  on social policy.

The event had Rachel Glennerster, Director at J-PAL, as keynote speaker, she presented on the importance of evidence generated through impact evaluation in the formulation of social programs, with the aim of improving their efficacy and efficiency.

The event counted with the participation of Héctor Malarín, IADB's representative in Bolivia, and Dylan Ramshaw, Country Director for IPA in Bolivia, Peru and Paraguay. Presentations were followed by a debate with the audience moderated by Rodolfo Stucchi, Senior Economis at IADB in Bolivia, will be held. 

Both the workshop and seminar were organized by IADB, J-PAL Regional Office for Latin America and the Caribbean, IPA Bolivia, UPSA and INESAD, as part of their mission of promoting evidence-based decision-making in public policy, and were developed prior to the 20th LACEA Annual Meeting in Santa Cruz.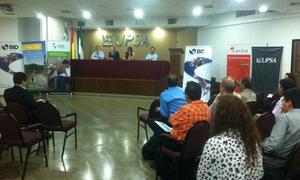 En Búsqueda de Soluciones Efectivas: Políticas Públicas Informadas por Evidencia
El miércoles 14 de octubre, a las 18:30, Abdul Latif Jameel Poverty Action Lab (J-PAL), Innovations for Poverty Action (IPA), el Banco Interamericano de Desarrollo (BID), el Instituto de Estudios Avanzados en Desarrollo (INESAD) y la Universidad Privada de Santa Cruz (UPSA) organizaron un curso introductorio y el seminario "En Búsqueda de Soluciones Efectivas: Políticas Públicas Informadas por Evidencia", en Santa Cruz, Bolivia.
 
Por la mañana se llevó a cabo un taller coordinado por J-PAL LAC y el equipo de IPA, en el que los participantes trabajaron en la teoría y la práctica de los temas introductorios sobre las evaluaciones de impacto experimentales, tales como metodologías de evaluación, teoría de cambio y el diseño de la aleatorización. Como parte del taller, Francisco Gallego, Director Científico de J-PAL LAC, condujo una sesión sobre las oportunidades de implementar evaluaciones de impacto aleatorias.
 
Durante la tarde, el seminario reunió a académicos, funcionarios del gobierno y de organizaciones internacionales, así como a representantes de la sociedad civil, a fin de debatir sobre el rol de la evidencia rigurosa como herramienta esencial en la toma de decisiones de política pública.   
 
El evento contó con Rachel Glennerster, Directora Ejecutiva de J-PAL, como ponente principal, quién presentó sobre la importancia de la evidencia generada a través de evaluaciones de impacto en la formulación de programas sociales, a fines de mejorar su eficacia y eficiencia.
 
El evento contó con intervenciones de Héctor Malarín, Representante del Banco Interamericano de Desarrollo en Bolivia y Dylan Ramshaw, Director Nacional de Innovations for Poverty Action en Bolivia, Perú y Paraguay. En último término, tuvo lugar un debate con la audiencia moderado por Rodolfo Stucchi, Economista Senior del BID en Bolivia.
 
El seminario fue organizado por el Banco Interamericano de Desarrollo, la Oficina para América Latina y el Caribe de J-PAL, IPA Bolivia, la UPSA e INESAD, como parte de su misión de promover la toma de decisiones en materia de políticas públicas informadas por evidencia, y se desarrolló como evento previo a la XX Reunión Anual de LACEA en Santa Cruz.