Legon, Ghana

Financial inclusion - ensuring that the poor have access to financial services that are relevant for their lives - has great potential to alleviate poverty, stimulate economic growth and increase the welfare of the poor. In Ghana and other African countries, a wide group of stakeholders, including governments, NGOs, and financial institutions, is investing considerable resources towards bringing savings and other formal financial services to the poor. Yet, there is comparatively little evidence demonstrating what products, programs, and interventions work, and why some programs are successful while others are not.

 

On 14 March 2012, at the University of Ghana in Legon, researchers from Innovations for Poverty Action (IPA) presented results from a portfolio of newly completed field experiments on savings in Ghana. This event was attended by over 100 policymakers, practitioners and researchers interested in learning what savings interventions work. Researchers discussed randomized controlled trials conducted on a range of interventions aimed at increasing access to, and usage of, savings products tailored for the poor. These included goal-oriented labeled savings accounts, and matched savings accounts. The event was co-hosted by the 

Institute of Statistical, Social and Economic Research

, and was sponsored by the 

Yale Savings and Payments Research Fund

, which is jointly managed by the 

Global Financial Inclusion Initiative

 and the Economic Growth Center at Yale University.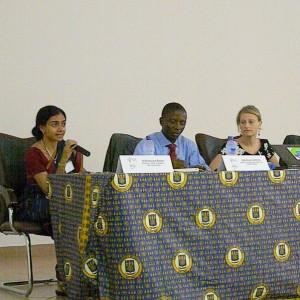 INTRODUCTION
Opening Remarks
Robert Osei, ISSER, University of Ghana
Randomized Evaluations in Ghana (
download
)
Jessica Kiessel, Innovations for Poverty Action
Microsavings and Payments Research (
download
)
Dean Karlan, Yale University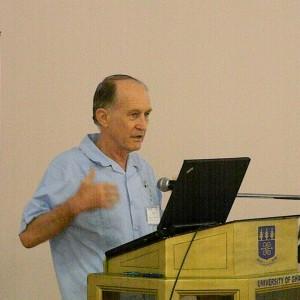 Margaret McConnell, Harvard University
Bram Thuysbaert, Yale University
Comments on Access to Savings in Ghana
Henry Telli, International Growth Center
ENCOURAGING SAVINGS - PART 1
Margaret Mc Connell, Harvard University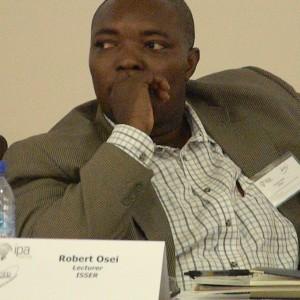 Dean Karlan, Yale University
Comments on Commitment Savings (
download
)
William Steel, ISSER, University of Ghana
ENCOURAGING SAVINGS - PART 2
Dean Karlan, Yale University
Jessica Kiessel, Innovations for Poverty Action
Comments on Strategies to Encourage Deposits
Robert Osei, ISSER, University of Ghana
MOBILE FINANCIAL SERVICES IN GHANA, CHALLENGES AND OPPORTUNITIES
Panelists:
Ignatius Cobbina, Fidelity Bank
Jessica Osborn, TIGO CASH
Stephen Rasmussen, CGAP
Moderator:
Aishwarya Ratan, Yale University
Panelists discussed the promise of technology-enabled financial inclusion in Ghana, such as branchless banking and mobile money. Developing an agent network remains one of the main challenges in Ghana. Agent banking has great potential in the country. Technology innovations such as mobile money and POS allow banks to invest in providing services to the more rural areas of the country. Furthermore, these innovations allow banks to work with the existing network of Susu collectors, supporting their expansion rather than replacing them, and improving the safety of transactions and liquidity challenges.
There is need for more product development, and marketing aimed at a larger range of people that includes the poor. Active users of mobile money form a very small percentage of registered customers. Poor Ghanaians do not use mobile money; it is thus necessary to develop mobile money products accessible and appropriate for the poor. There is a role for the regulator, and other third party actors, in driving the research necessary to develop innovative products focused on financial inclusion for the poor. The regulator is seriously investing in mobile money to become a major driver to financial inclusion in Ghana, motivating positive expectations for the growth of the business and of financial inclusion in Ghana.