Economics Exchange Forum: The Path to More Locally-Grounded Research with Students from Université Norbert Zongo
Template G Content Blocks
Sub Editor
On November 4, IPA organized a dissemination workshop with PhD and Master's students from the Norbert Zongo University in Burkina Faso. During the workshop, they had the chance to present their own research and to benefit from advice that may help them get ahead in their future careers as development researchers.
This event was co-chaired by Professor Eugénie Maïga of Université Norbert Zongo, Professor Andrew Dillon of Northwestern University, and IPA's country leadership in Burkina Faso. The initiative was held as a part of the collaborative partnership between the Norbert Zongo University and IPA signed in October 2021, aiming to increase research collaborations and support for young academics in their professional journey. Both the Memorandum of Understanding and the workshop were inspired by IPA's broader initiative to promote researcher diversification and further strengthen IPA's support to African scholars conducting development research.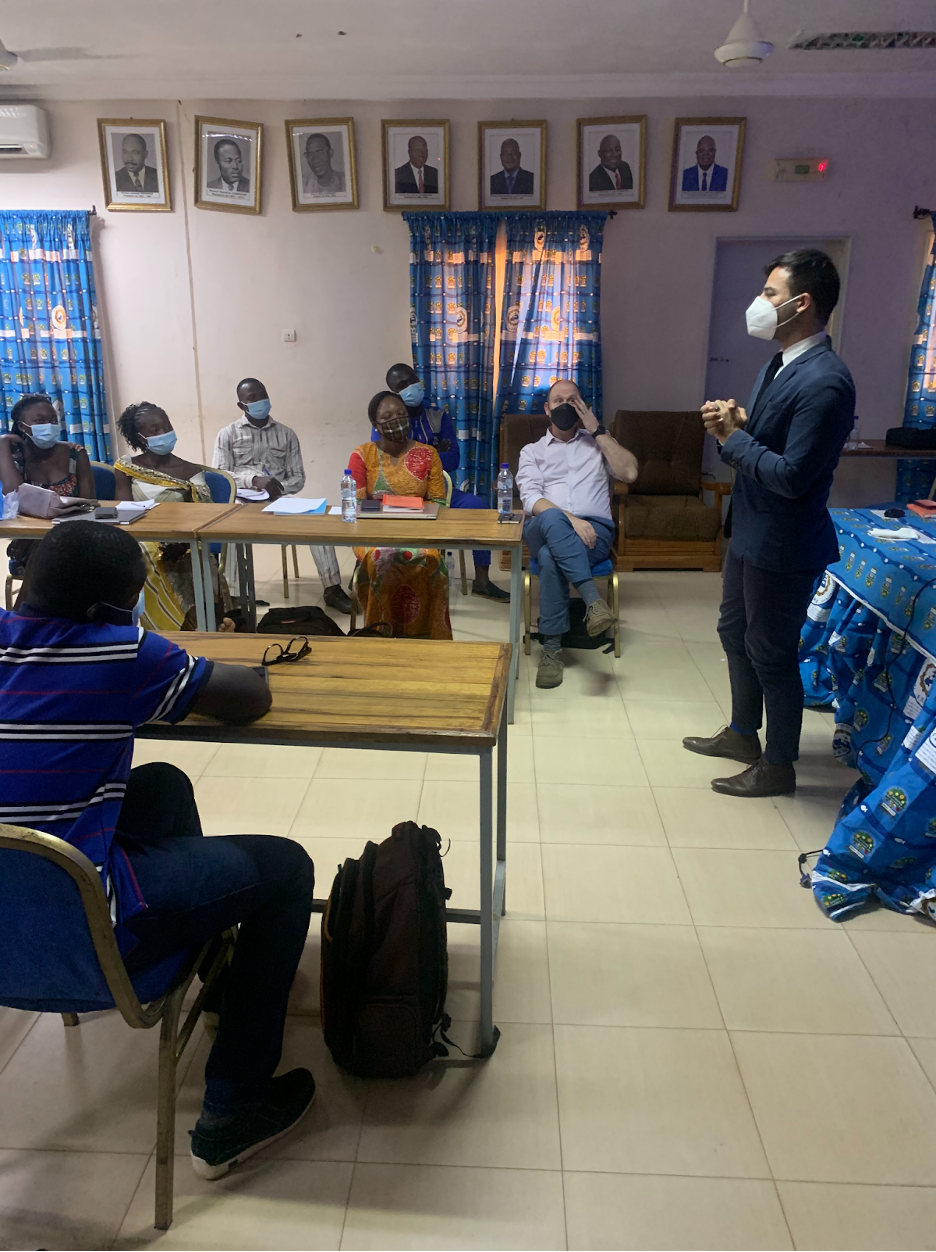 During the workshop, students engaged in discussions on IPA's portfolio, after hearing about the organization's initiative to embed academic studies driven by nationals of low- and middle-income countries, especially in contexts with long-standing IPA presence such as Burkina Faso. The young academics asked questions about the non-profit's current efforts to create more locally-grounded research. They also learned how they can interact with IPA to conduct their research and amplify their learning opportunities. Among the discussed topics were training programs on randomized evaluations, as well as future collaboration opportunities for PhD students, through research internship programs.
In the second half of the workshop, the Norbert Zongo University graduate students had the occasion to present their own research projects. Professor Andrew Dillon, who was visiting IPA Burkina Faso, took the opportunity to discuss the studies and the proposed research questions alongside Eugenie Maiga, Aliou Diallo, and Andreas Holzinger. Through these informal exchanges, Dillon performed initial validity checks and gave general feedback on the potential of the studies. He also offered additional references and advice on possible data sources and methodologies for the research projects.
The two parts of the event were thus complementary in presenting students with mentoring on their research projects and with additional information on possible employment opportunities, and training programs offered by IIPA. Given the high uncertainty on possible employment outlets and economic returns of their studies, feedback of the workshop was very positive: young students claimed it allowed them to better understand the job market for emerging development economists and researchers. Similarly, the event permitted them to understand the areas of research that IPA is reputed for. The newly-gained knowledge allows the students not only to produce more rigorous, relevant, and well-grounded research but also to be conscious of which career paths are open to them, and what training and apprenticeship opportunities can push them in the desired directions.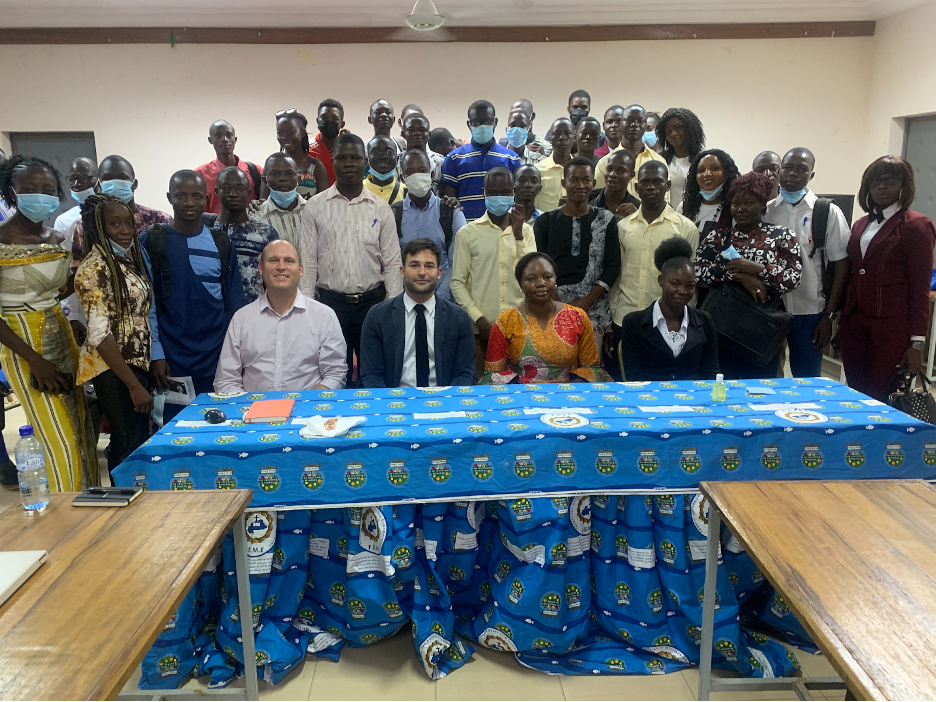 ---
Atelier d'échanges sur la recherche en économie avec les étudiants de l'université Norbert Zongo

Le 4 Novembre, Innovations for Poverty Action (IPA) à organisé un atelier avec des étudiants de Master et Doctorat de l'Université Norbert Zongo au Burkina Faso. Lors de cet atelier, les étudiants ont eu l'occasion de présenter leurs propres projets de recherche et ont bénéficié des conseils qui pourraient faire avancer leurs futures carrières en tant que chercheurs dans le domaine du développement. 
L'atelier a été co-animé par Eugénie Maïga, professeure à l'Université Norbert Zongo, par Andrew Dillon, professeur à l'Université Northwestern, et par la direction de pays d'IPA au Burkina Faso. Cette initiative s'inscrit dans le cadre du partenariat d'accord entre l'Université Norbert Zongo et lnnovations for Poverty Action, signé en Octobre 2021, ayant pour but de s'engager davantage dans des collaborations de recherche et de soutenir les jeunes universitaires dans leur parcours professionnel. Le protocole d'entente et la conférence ont été inspirés par l'initiative plus large d'IPA de promouvoir la diversification des chercheurs et chercheuses tout en renforçant le soutien aux universitaires africain.e.s menant de la recherche sur le développement.
Pendant cet événement, les étudiants ont pu s'engager dans des discussions sur les travaux d'IPA, après avoir été mis au courant sur le travail de l'organisation pour consolidant les recherches menées par des ressortissant.e.s des pays à revenu faible et intermédiaire, en particulier ceux avec une présence IPA de longue date comme le Burkina Faso. Les jeunes universitaires ont aussi posé des questions sur les efforts actuels de l'association à but non lucratif pour davantage de collaborations ancrées localement. Ils ont aussi appris comment interagir le mieux avec IPA pour mener leurs recherches et amplifier leurs opportunités d'apprentissage. Parmi les sujets discutés figuraient des programmes de formation sur les évaluations randomisées contrôlées, mais aussi des opportunités futures de collaboration pour les doctorants, à travers des programmes d'apprentissage en recherche.
Dans la seconde moitié du séminaire, les étudiants de l'Université Norbert Zongo ont pu présenter leurs propres projets de recherche. Le Professeur Andrew Dillon, qui était en visite au bureau d'IPA au Burkina Faso, aux côtés d'Eugénie Maiga, Aliou Diallo et Andreas Holzinger, a pris cette opportunité pour discuter de leurs études et les questions de recherche proposées. Grâce à ces échanges informels, Dillon a pu faire des contrôles de validité initiales et des commentaires généraux sur le potentiel de chaque étude. Dillon a aussi pu donner des références supplémentaires et recommander des possibles sources de données et méthodologies pour les projets. 
Les deux parties de l'événement ont été donc complémentaires, en offrant aux étudiants du mentorat pour leurs projets de recherche, des informations supplémentaires sur leurs possibilités d'emploi et sur les programmes de formation offerts par Innovations for Poverty Action. Mitigant l'incertitude sur les possibles débouchés d'emploi, les retours sur l'atelier ont été très positifs: les jeunes étudiants ont affirmé qu'il leur avait permis de mieux comprendre le marché du travail pour des économistes du développement émergent.e.s. De même, l'événement leur a permis de comprendre les domaines de recherche qui font la renommée de l'IPA. Les connaissances nouvellement acquises permettront aux étudiants non seulement de produire de la recherche plus rigoureuse et pertinente, mais aussi d'être conscient.e.s sur les cheminements de carrière ouverts à eux, et quelles formations et opportunités d'apprentissage peuvent les pousser dans les directions souhaitées.
City
Koudougou
Country
Burkina Faso